WARNING PLEASE DO NOT ORDER FOR THIS PRODUCT IF YOU DO NOT HAVE THE MONEY NOW TO PAY FOR IT OR IF YOU WILL BE TRAVELLING.SAVE THE LINK ABOVE AND ORDER WHEN YOU ARE READY AND AVAILABLE.THANK YOU ​TRANSFERRING FUEL MANUALLY CAN BE DANGEROUS!IT COULD LEAD TO EXPLOSION
Move Liquid Safely And Easily With This Convenient Battery Operated Authentic (Fuel, Water, Gas etc.) Pumping MachineINTRODUCING TURBO PUMP MACHINE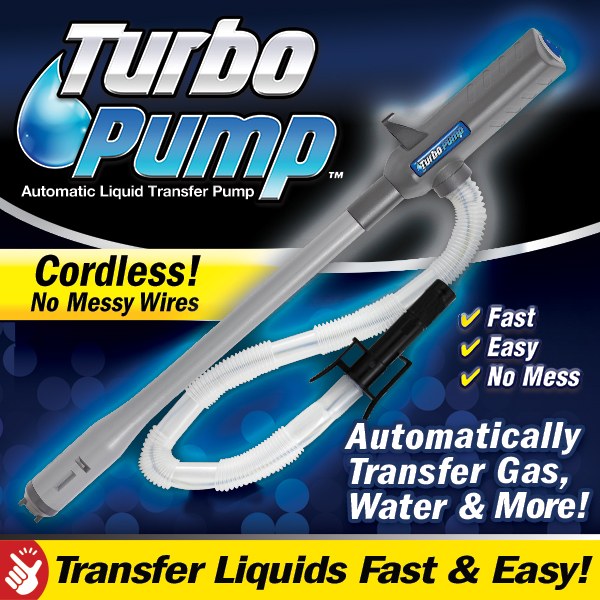 DESCRIPTION OF THE TURBO PUMP MACHINE
Turbo pump is the automatic, battery powered, liquid transfer pump that easily lets you move liquids!
It takes the hassle out of filling gas tanks, refilling windshield fluid and so much more. And no more spillovers!
It's easy to use – just secure the hands-free clip and switch it on to easily transfer gas, water, oil, and more.
It even has an auto stop sensor that stops the pumping and beeps when it detects a full tank.
The secret is the turbo siphon technology that pumps almost any liquid down to the last drop.
Turbo Pump can transfer over a gallon of liquid in less than 20 seconds!
Siphoning can be dangerous and doesn't always work, but Turbo Pump does the siphoning for you, making it perfect for filling lawn mowers, yard tools, snow blowers, boats, generators, cleaning fluids, and more.
And it's great for indoor jobs too! Drain clogged sinks or tubs in just seconds. Empty an entire hot tub in just minutes.
Order Before The Timer Below Reaches 00.00.00.00 AFTER THAT PRICE RETURNS TO NORMAL AND WITHOUT FREE DELIVERYNORMAL PRICE: N25 000PROMO PRICE1 PACK N13,000 ONLY2 PACKS COST N24,000 (Save Extra N2 000)3 PACKS COST 35 000 (Save N4 000) 36 PIECES LEFT SO HURRY TO PLACE YOUR ORDER BY FILLING THE FORM BELOW
See What Our Happy Customers Have To Say About Turbo Pump
"
Works very well with water & gasoline
I was pleased after using it – this is indeed a great product! Works well I highly recommend it for all
Engr. Uche from Lagos
"
Awesome
I bought this to use for water changes on our 65 gallon aquarium. I love it! Makes transfer very easy for me.
Mr Johnson

from Aba
I use this unique product to transfer fuel out of my generator and it works pretty well, no stress at all
Mr Seyi

from Ibadan
Delivery Within Lagos Takes Place Within 24 Hours While Delivery Outside Lagos Takes 24Hrs-3 Working Days​​Fill The Form Below To Place Your Order
Copyright © 2021. Aibe Mall
This site is not a part of Facebook website or Facebook Inc. Additionally, this site is NOT endorsed by Facebook in any way. FACEBOOK is a trademark of FACEBOOK inc.
Privacy Policy I Disclaimer